Reversing a decline in growth during the Covid-19 pandemic, the hazardous waste collection industry is expected to grow by more than 4% in 2022.
One of the biggest growth opportunities is in the utility sector, which produces hazardous waste that requires specialized hazardous waste collection and disposal services, according to IBISWorld, which publishes annual industry reports by country across the globe. 
As the need for utilities grows, more industries are requiring specialized collection services as they repair or demolish structures that contain dangerous materials such as lead or asbestos.
Each year, nearly 35 million tons of hazardous waste is managed in the United States, and as hazardous waste laws continue to evolve, more and more companies are looking for help to not only remove and transport their waste but to ensure their businesses are compliant. 
With the current hazardous waste collection industry market size hitting $3.9 billion in 2022, you could be leaving money on the table if you're not realizing your company's true potential.  
What Are Inbound Marketing Services?
Hazardous waste companies often don't use their websites or modern lead generation strategies to grow their businesses. They have salespeople do cold calling, rely on referrals or invest in paid ads. For many of these companies, it isn't enough.
Inbound marketing services harness the power of available online search options to drive targeted visitors to your website by creating valuable content that is tailored to them. A successful inbound methodology creates connections and solves the problems that many hazardous waste generators face today. This allows customers to come to you. 
Because hazardous waste disposal is a specialized industry, it's important to hyper-focus your marketing efforts on your target audience. This audience includes buyer personas, which are fictional representations of your ideal customers based on real data about customer demographics and online behavior.
Rather than pushing your message in front of people who are likely not interested, inbound marketing services allow you to establish yourself as an authority in your industry using the internet. When businesses are in need of hazardous waste services, they will search online for companies that can solve their waste problem, and they should naturally discover your brand. They receive your message on their terms and are far more receptive to what you have to say.
4 Signs You Need Inbound Marketing Services
Nearly 85% of buyers do online research before ever contacting a company, according to Hubspot. How are they finding your company right now? 
In order to grow your hazardous waste business, you need a lead generation system that:
Attracts the right prospects
Converts visitors to your website into leads
Automates lead conversions and lead nurturing to convert leads into Sales Qualified Leads
Gives you the ability to track and understand what analytics mean
Integrates sales and marketing to ensure everyone is on the same page
Staying ahead of your competitors has never been more important than in today's digital world. But how do you know where you stand and whether you can benefit from inbound marketing services that offer the type of lead generation system above?
Here are four signs you likely need inbound marketing services:
1. You have no value to offer on your website.
Hazardous waste is a highly specialized and complicated subject, so it's important that you educate your prospects who may be in need of your services. Not doing this may lead to a missed opportunity to provide your prospects with valuable content and to build trust.
Blogs, ebooks and checklists are all excellent ways to offer value on your website. Particularly blogging, when done consistently, is a key source of the traffic to your website. Every time you publish a blog, you provide an opportunity for your prospects to find you and hear about the solutions that your hazardous waste company provides.
Actual data from a current hazardous waste client.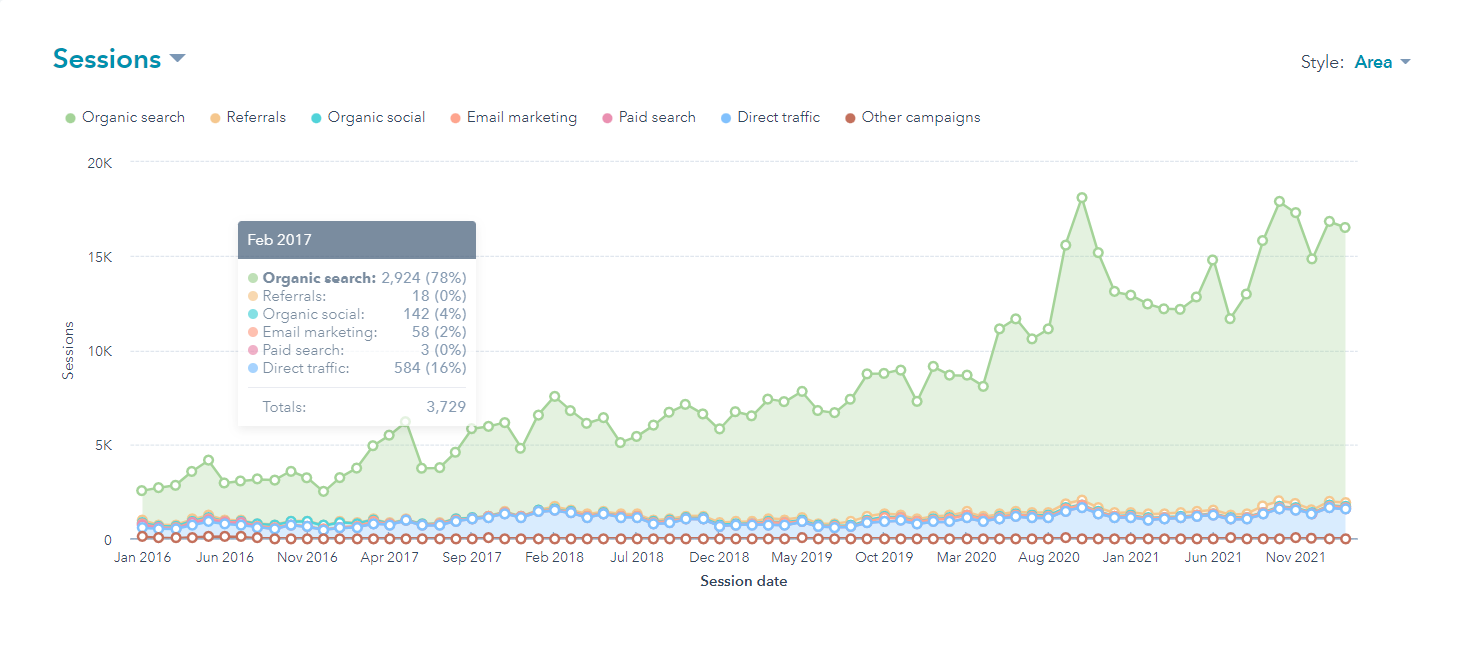 2. There's no primary offer on your website.
One of your content pieces, often an eBook, report, white paper or other types of content, should be the primary offer on your website. An offer is a piece of content that is perceived by a potential client to be high in value. Providing this content offers advice or provides a path toward solving that problem.
Example of an offer on a website page

It can be tempting to want to promote each and every service your company offers. However, this is a common mistake many hazardous waste companies make when they are trying to improve their lead generation processes.
This does not mean you shouldn't offer multiple services. It just means you shouldn't dilute your company's value by trying to offer tons of services to everyone everywhere.
Instead, you should decide what you're best at and lead with that particular service. This is called "land and expand." Your prospects will come to you because they desperately need that ONE THING rather than a company that offers an entire department store of options. Once they have found you, you can then expand to the other services you offer later as their needs evolve.
Make sure this one content offer has its own landing page on your website. You do not want to send potential customers on a wild goose chase or to your homepage because they could get lost in distractions that may be on your normal website pages. Landing pages also allow you to capture information about the prospect in exchange for the offer.
To get potential customers to the landing page, use calls-to-action, or CTAs, on your other website pages or in the content you create, such as blogs, emails and videos. When customers click on the CTAs, they are taken directly to the landing page.
3. There is no funnel system from your website.
Once you have a primary offer, it's time to promote it and open the gates for prospects to come through on their own. If you don't have a funnel system from your website, it will be difficult for you to qualify your leads and begin building trust with potential clients who need help with their hazardous waste plans.
An effective funnel has three stage: awareness, consideration and decision.
The awareness stage occurs when the buyer has a problem and is experiencing symptoms of this problem. They are aware a problem exists and in response have begun gathering initial information they need to solve their problem.
The consideration stage occurs when buyers have committed to solving their problems. They have begun considering options to solve it.
During the decision stage, buyers evaluate their options and decide on the right provider to help them with the solution.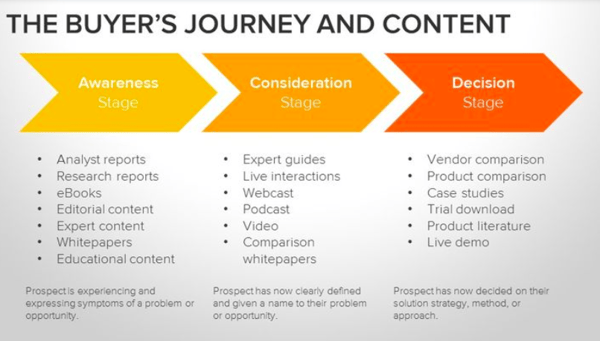 High-value, focused content like masterclasses, webinars, video series and workshops will convert prospects from the consideration stage to the decision stage. A good funnel system will teach something valuable, build your credibility and educate prospects.
4. You have no follow-up process for the leads that you generate.
Once you have quality leads, it's critical that your sales team has a consistent follow-up process in place. Without adequate foll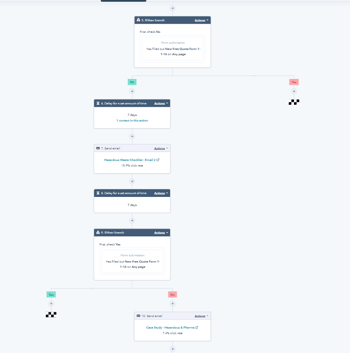 ow-ups, you're almost guaranteeing the loss of a sale or client.
You may be surprised to know that studies show that you need at least nine touches with a lead. It's only after nine touches that you can move them to the "closed lost" list, though that's the recommended minimum. We recommend closer to 15 touches.
These touchpoints can come in a variety of formats, from emails to calls, texting or social media. Every time you perform a touchpoint, always offer something of value. This keeps prospects interested in the hazardous waste services you provide and shows your experience in the industry.
What To Look For In An Inbound Marketing Company
Inbound marketing services offer a comprehensive approach to growing your business. When looking for a marketing agency that can help you generate leads and turn those leads into sales, experience is a must. 
Growing your hazardous waste business takes a precise and customized marketing plan that will add value to your business. Look for an agency with a proven process … one that has case studies to showcase the results they can achieve.
The best agencies will set realistic goals and have a track record of keeping long-term clients who stay because they're getting results. 
Another key indicator of a top inbound marketing company is that the company uses the same process to promote its own brand.
Lastly, an agency should ask all the right questions and give you the individual attention your hazardous waste business deserves. You'll want a company that does its homework to develop a customized plan, which is based on your pain points, your needs and what key performance indicators you want to achieve.
You may have more questions about whether inbound marketing services are right for your business. Our article, Inbound Marketing Definition: What Is It And Is It Right For Your Business? outlines some questions you should ask yourself when determining whether this type of marketing strategy would address your needs.
Source link