You can adopt many lead generation and nurturing techniques, but running effective email campaigns lies at the heart of it all. You can nurture leads with the help of email marketing, connecting with customers meaningfully by adding more value.
A report suggests that 29% of marketers consider email one of the most effective marketing channels — ahead of social media, content marketing, and SEO. Also, eMarketer analysis reports that email marketing ROI is 122% which is four times as high as every other digital marketing medium.
Before we explore ways to plan email marketing campaigns and know about inspiring email campaigns, let us take a quick look at the basics.
What is email marketing?
Email marketing is a marketing tactic that essentially involves building an email list and nurturing it with value-add content or offers that drive them to convert.
Your email marketing campaign can have everything from discounts promotions to informational content that educates your audience. Every email marketing campaign should be geared toward fostering long-term relationships.
How to plan email marketing campaigns?
You will need to answer some key questions before starting a new email campaign. For instance, ask, who is your target audience? Why should this email matter? Here are some of the key steps to consider before running an email marketing campaign.
#1. Define objectives and goals
Determine the intent behind running an email marketing campaign. For instance, you can use it to create brand awareness, boost sales, nurture or generate leads, and engage your customers consistently.
You need to have the right email service providers (ESP) in place along with email lists, and campaign objectives are in sync. First, split your email list into groups according to the demographics or activities of each subscriber. And then, you can send out emails to encourage recipients to respond by taking appropriate action. Your ESP can help you schedule, send, and monitor campaigns automatically.
#2. Plan the email sequence
Your email sequence consists of a series of emails sent to prospects and customers. Scheduling is possible with ESPs that help automate sending emails based on triggers.
You can adopt several ways to start warming up cold leads. This includes sending an email sequence to those who have signed up for a webinar, blog post, or subscribed to your newsletter. It is better to start with three emails in your welcome email sequence and then expand to 5-7 emails depending on the open rates and responses.
#3. Create the content required
The success of your email campaign depends on how well you define and place your call to action. This should be backed by regular follow-up emails, meaning you need to plan your content well in advance. Create actionable content that induces recipients to click on the call to action. Make sure the tone of your language remains consistent throughout the campaign.
#4. Plan the visuals and design
Given its simplicity, many designers would think of HTML email as a one-page website. HTML and CSS are all that's required, after all. The text content of your email would rarely take as much space as other more eye-catching elements — headline, images, and calls to action buttons.
Also, at least half of your subscribers will read your emails on their mobile devices, so keep your email design mobile-friendly. This will impact the look and feel of our email, as well as the information that is included inside it.
6 SaaS companies with inspiring email campaigns
Checking out some of the most successful and well-designed email templates can certainly help you plan better. Here, we are sharing six such inspiring campaigns by SaaS companies that leveraged emails to drive more traffic, engagement, and conversions.
#1. Shopify
This email was sent as an event reminder to the participants who opted to attend this online event. The goal was to ensure the highest possible turnaround of attendees interested in Shopify's live-stream event.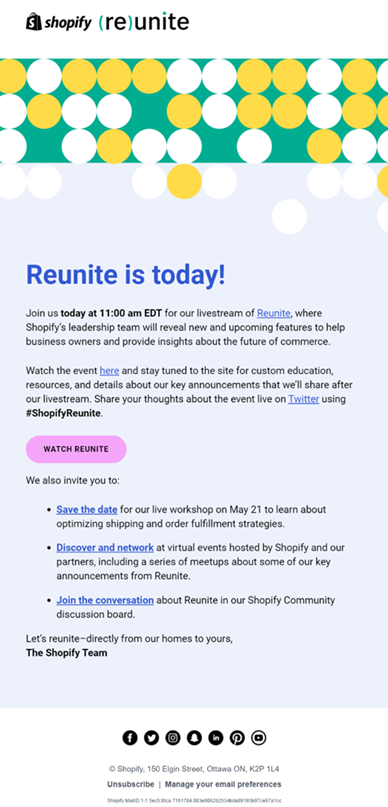 The tone of this email is confident and professional that focuses on driving more attendance than evoking other responses. This email copy incorporates a visual design that is appealing and eye-catching.
It is also a great example of visually guiding through the CTA, which stands out. As a result, Shopify's click-through rates have risen due to the color decision.
In the end, it also incentives subscribers to share their ideas on social media that add more value for users registered for the event.
#2. Dropbox
This was Dropbox's email meant to re-engage their users.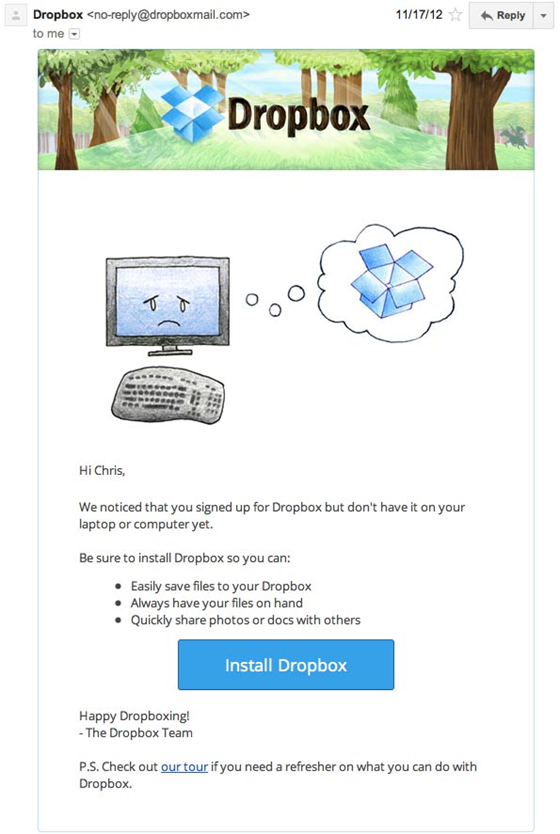 Such a skillfully crafted email template and design can instantly draw users' attention to Dropbox's child-like pictures and sorrowful expressions. Dropbox avoids boredom by reminding consumers in a lighthearted manner about the benefits of using their service.
An interesting thing about this copy is the lack of buttons, keeping the email clutter-free. It has a single link guiding users to take a tour and start with Dropbox.
#3. Zapier
Zapier sent out this email to invoke a prompt response from readers. This email aims to promote a limited-time deal by writing a catchy title to demonstrate that the deal is valid for a limited time. The cherry on the top was their integrated countdown timer, making readers act promptly.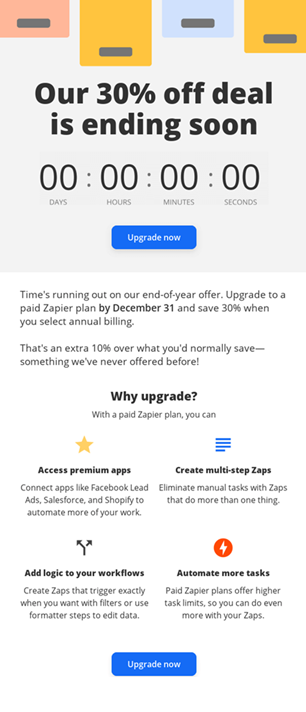 Another brilliant touch in this email was the inclusion of a list of four reasons why upgrading would be advantageous. Readers were compelled to upgrade to Zapier's premium subscription as soon as possible after reading this email. This email works to persuade your subscribers to take advantage of an offer.
#4. Airtable
This email by Airtable was again time-bound, asking users to act sooner. It was sent to create awareness of their B2B trial which was ending soon. The goal was to let on-trial users to prolong their trial period and discover the true value of services.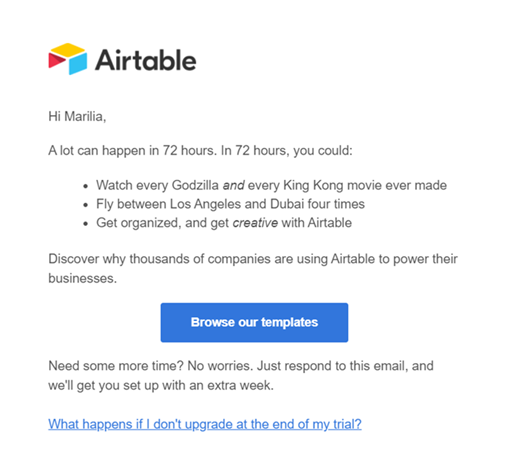 Trials are a great way for SaaS businesses to acquire and retain more clients. This email by Airtable was again time-bound, asking users to act sooner. It was sent to create awareness that their B2B trial is ending soon. The goal was to let on-trial users prolong their trial period and discover the true value of services.
Here, Airtable sends out an entertaining email to encourage trial members to make the most of their time with the service. Airtable's email opens and click-through rates are boosted thanks to the inclusion of personalized content and formatting. Visually, the lack of pictures does not detract from the email's attractiveness and rather helps keep things simple and  focused.
#5. Hootsuite
This email by Hootsuite is for a blog update with the aim to drive blog traffic and educate subscribers about the latest happenings.

This email by Hootsuite is for the blog update to increase the blog traffic and educate the subscribers about the latest happenings. Here, Hootsuite uses a simple yet effective layout and language that asks direct questions to pique the interest of its audience.
The aim is to lead readers to click on the "Start Now" button. There are two more pieces of information sent out with the primary content — redirected readers to more materials and a webinar with different CTA buttons.  
#6. Zendesk
This email by Zendesk aims to educate their existing leads through engaging content.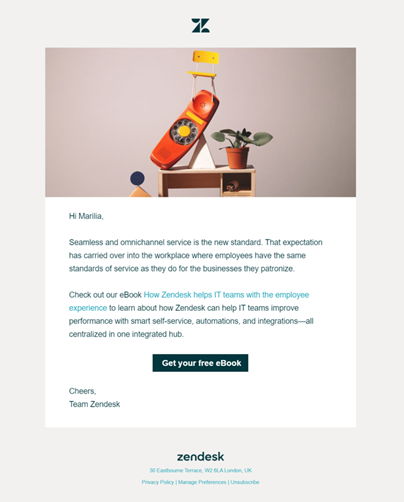 Promoting blog content to subscribers is one of the proven ways to ensure engagement and stay visible. Zendesk does so with a purpose with this email to promote ebooks while nurturing their leads.
You have this two-paragraph email layout when it comes to the text. The first part highlights the problem, while the second offers the solution.
Before the reader reaches out to CTA, this email has an additional link to boost click-through rates and ebook downloads. In terms of aesthetics, this email uses a quality picture that catches the eye, compelling readers to follow the content in the right order, from subject line to CTA.
Conclusion
After looking at all these SaaS companies rolling out emails that entice readers, now it is your turn to get started. Remember, you will need an email marketing platform that offers an easy-to-use builder and adaptive email templates to pick out the best sample that works for your message.
Now that you know how successful SaaS businesses do their emails, determine the right approach for your business. Each of the emails mentioned above has unique qualities that make them exceptional.
These emails are tailored to satiate their audience's tastes. Use these examples as inspiration to create your own email campaigns that your subscribers will love.
Source link