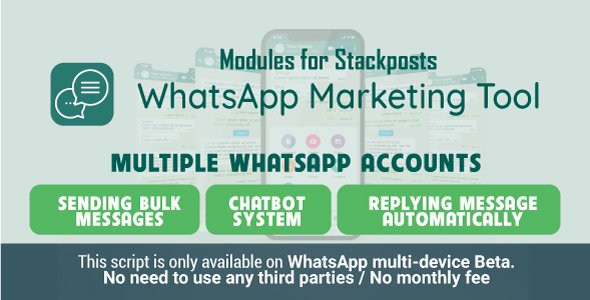 Whatsapp Marketing Tool Module For Stackposts is an app for Stackposts – Social Marketing Tool. You can't use it without Stackposts – Social Marketing Tool
Waziper – WhatsApp Marketing Tool
The top WhatsApp Marketing Platform 2022 by Author of StackPosts
Waziper is WhatsApp Marketing Software based on PHP Script. It is the best solution for Small or Large Companies, Software Companies, Digital Marketers as well as you can use it as the software-as-a-service (SaaS).
Waziper is Standalone or Modules for Stackposts Main Script. The Powerful WhatsApp Marketing Solution 2022
If you have any questions? Please read our FAQs here.
WhatsApp Marketing Tool Plugin for WordPress which is one of the products by Stackposts. You can use many of its features such as allowing you to automatically Bulk WhatsApp Sender by seconds to millions of customers, Auto Reply for a first message, Chatbot System with keywords or sentences, Sending all types of file like PDF, Excel, txt,… Additional, exporting contacts are from groups. It's not only WhatsApp Marketing Software but also help your business keep and reach more customers.
Waziper – Bulk WhatsApp Sender Software for WordPress helps you send out messages 24-hour on 7 dayssend out messages 24-hour on 7 days. It not only allows you to send relevant notifications such as appointments, orders, etc. but also interacts with your potential clients as your real person. You just need to purchase one time to get Lifetime Updates. Moreover, you also have 06 free months for support. Don't Wait! Get it right now!
Important note:
This script is only available on WhatsApp multi-device Beta.
No need to use the Third Parties to run WhatsApp API (Twilio, Message bird, Vonage,.. ). Only install our scripts following the document and use it.
All our features to help you make differences with others SaaS Scripts
SEND BULK MESSAGES
Bulk messages save time, optimize resource use, and are a great tool for business-customer interaction. Random sending message by minute.
AUTO REPLY MESSAGES
The great way for businesses to fulfill customer support expectations of receiving a prompt response for their chat
CHATBOT
Chatbots allow quicker response time to customer queries and faster resolutions
SEND MESSAGE TO NUMBER NOT IN CONTACT
Now you can send WhatsApp messages to numbers without adding it to your contact list or address book
MULTIPLE ACCOUNTS
Now you can send WhatsApp messages to numbers without adding it to your contact list or address book
SAVE A CAMPAIGN AND RESEND LATER
After sending a particular campaign, you can save it and resend later. Also, you can save as many campaign groups as possible
All features that you will have:
Easy to install and use, mobile responsive UI
Send Bulk Messages. (Spintax, Except groups, Random time)
Send scheduled messages
Random sending messages by minute.
Send media messages (videos, images, hyperlinks)
Chatbots by keywords (Spintax option)
Auto reply messages (Spintax, Except contacts)
Multiple Whatsapp Accounts at one place
Send message to number not in contacts
Export WhatsApp Group Contacts
Caption: Save all your contents
File Manager: Manage all media for user (Google, Dropbox, OneDrive, Image Editor)
Login & Signup with Facebook, Google, Twitter
Secure Password Hashing
Save and get caption
Emoji Support
Spintax support
Supported SSL
Automatic timezone
Multilingual ready
Statistics
and more…
Demo:
Website: https://demo.waziper.com/
Username: [email protected]
Password: 123456
Server Requirements:
Please check this page: http://doc.stackposts.com/
A VPS Ubuntu or Centos
PHP Version 7.1 – 7.3
Cronjob supported
CURL enabled
MySQLi enabled
OpenSSL enabled
PDO enabled
mbstring enabled
EXIF enabled
ZIP enabled
allow_url_fopen enabled
End-User License Agreement
Please read this agreement carefully before installing or using this product.
If you agree to all of the terms of this End-User License Agreement, by checking the box or clicking the button to confirm your acceptance when you first install the web application, you are agreeing to all the terms of this agreement. Also, By downloading, installing, using, or copying this web application, you accept and agree to be bound by the terms of this End-User License Agreement, you are agreeing to all the terms of this agreement. If you do not agree to all of these terms, do not check the box or click the button and/or do not use, copy or install the web application, and uninstall the web application from all your server that you own or control.
Note: With Stackposts, We are using the official Social Media API (Facebook, Twitter etc, except Instagram) which is available on Developer Center. That is a reason why Stackpost depends on Social Media API . Therefore, We are not responsible if they made too many critical changes in their side. We also don't guarantee that the compatibility of the script with Socia Media API will be forever. Although we always try to update the lastest version of script as soon as possible. We don't provide any refund for all problems which are originated from Social Media API (Facebook, Instagram, Twitter etc). We're not responsible for any issue related to the social accounts.
If you do not accept the terms of this agreement and you purchased a product containing the web application from an authorized retailer, you may be eligible to return the product for a refund, subject to the terms and conditions of the applicable return policy.
Important notice:
We don't offer free support (Time support can up to 2 days)
We don't offer refund (If item has been Dowloaded or Mistake)
We don't support install and custom script free
Read all the product information before you decide to buy it
Note: You cannot charge users for using this script with the Regular license. Kindly buy the Extended license for commercial use of this script.

Version 2.0.2 – Jan 13, 2022
    - Improved performance
    - Improved chatbot
    - Fixed autoresponser not working
    - Fixed load profile not working

Version 2.0.0 – Jan 7, 2022
    - Release Whatsapp multi-device beta
    - Added option edit time post for bulk schedule
    - Improved bulk schedule 
    - Improved chatbot
    - Improved autoresponser
    - Improved export member in groups
    - Fixed auto reply for status
    - Improved performance
    - Remove chat live feature because Whatsapp multi-device beta not support

Version 1.0.6 – Nov 2, 2021
    - Fixed pause/start bulk schedule
    - Fixed scan QR Code
    - Improve performance

Version 1.0.5 – Otc 12, 2021
    - Fixed problem for send bulk schedule with image
    - Fixed problem auto response not send in first message
    - Fixed problem pause/play for bulk schedule
    - Improved whatsapp server
    - Improve performance

Version 1.0.2 – Jul 20, 2021
    - Added option auto responser: All, Individual and Group only
    - Added option chatbot: All, Individual and Group only
    - Added option report for realtime chat
    - Added load more chat for Realtime Chat
    - Fixed bulk schedule delay
    - Fixed chatbot and auto responser send twice messages at the same time
    - Fixed Scan QR code cannot login
    - Fixed Whatsapp report incorect
    - Imporoved realtime chat and loading faster 70%
    - Improved whatsapp server
    - Improve performance

Version 1.0.1 – Jun 23, 2021
    - Improved whatsapp server
    - Improved chatbot
    - Improve performance

 Version 1.0 – Jun 3, 2018
    - Initial Release

Source