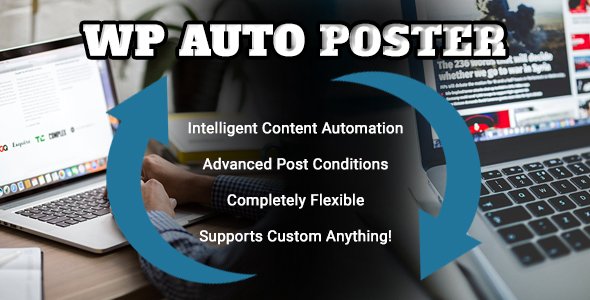 Important note
Please be aware that currently, WordPress is not fully compatible with PHP 8, breaking some things such as the named cron events used by this and other plugins. WordPress aims to be fully compatible by version 5.9, due to release on Jan 25th.
What is it?
WP Auto Poster makes it easy to manage your WordPress site using intelligent content automation, no matter how many thousands of posts you have. Now you can easily schedule your content to publish, recycle, change or be removed according to flexible rules you supply, all working automatically in the background when you're not even around.
Put your site's content on auto-pilot, no matter how complicated! You can easily schedule an unlimited number of posts to be automatically modified however you want, even all the posts you add in the future!
This plugin is a real true precious tool for SEO, great for getting search engines to re-crawl thousands of pages.
Yes, it works will all custom post types and custom taxonomies!
Just a few examples:
Automatically publish 4 draft posts per day between the hours of 9am and 5pm.
Automatically recycle old posts and breathe new life into them again.
Automatically publish posts of a category, tag, or custom taxonomy every Monday.
Automatically change tags, categories, or custom taxonomies of posts after 10 days.
Automatically publish posts featuring promotions during certain events or holiday sales.
Automatically remove sticky posts after 30 days.
Automatically publish posts from different authors at different intervals.
Automatically set a published post to pending or even trash depending on search criteria.
Automatically recycle your 'Halloween' posts during October.
Combine any of the above and your own ideas – create an unlimited number of Rulesets!
How will it help your site?
As a blogger or website owner, time is a valuable resource. Let WP Auto Poster manage your site for you, so you have more time to generate content, increase traffic and run your business. Now you can prep your post rules and have WP Auto Poster handle the scheduling, so that your blog content is handled automatically even if you are busy or on vacation. WP Auto Poster gives you the freedom to stop manually publishing and scheduling blog posts all the time, so you can spend your time on more important things.
With this plugin you have full control on how and when you would like your blog to be updated. You no longer have to remember to manually publish each post or schedule each post in advance. WP Auto Poster does it for you – just tell this robot plugin what you want. Whether you're drip feeding tons of content from your online store, continuously importing content into your auto blog, or you're supporting lots of authors frequently submitting new articles, WP Auto Poster can handle it all, however you want, automatically.
Source