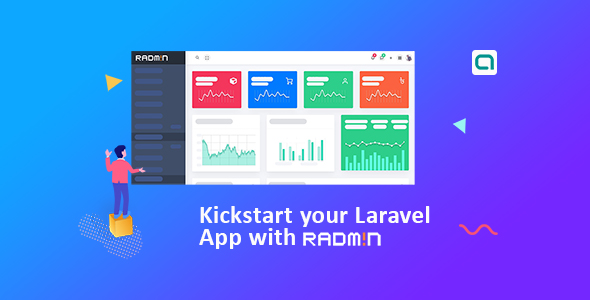 Are you stuck with setting up an admin panel in laravel? Radmin Laravel starter will be the best solution for you.
REST API, Advanced user, roles & permission management , Serverside Datatable, Datatable Edit and Export( CSV, EXCEL, PRINT, PDF, COPY),Cache Clear, XSS protection and many more features.
Radmin uses Themekit bootstrap 4 admin template with inventory and POS layout, advanced form elements, chat wizard, charts, widgets, and 30+ other glamorous plugins. It has an eye-catching user interface for laravel 8.

Note: due to server issue, we have hosted the demo here,
Credentials
Super Admin: [email protected]
HR: [email protected]
Project Manager: [email protected]
Sales Manager: [email protected]
Password: 1234
REST API Documentation and Endpoints
Radmin uses Laravel Passport for API development. Here is the link of documentation and Endpoints Visit https://documenter.getpostman.com/view/11223504/Szmh1vqc?version=latest
Get Postman Collection here, https://www.getpostman.com/collections/d716f8e9666f92249d62
Template Features
System
Laravel v8.70.2
PHP Version 8.0
Core Features
REST API
UAC – User management with Advance roles and permission
Inventory and POS Layout
Serverside Datatable
Editable Datatables
Datatable Export – Print, PDF, CSV, XLS, Copy etc
XSS Purifier
Cache Management
Themekit Features
Light, Dark, Purple, Blue, Red and Orange interface
Left side menu and Top menu dashboard design
Right side chat list with chat wizard
35 + Plugins
3 Dashboard variations
2 Type of menus designed dashboard template
4 types of Charts [Chartlist, Knob, Flot, Amcharts]
Responsive Bootstrap 4 Framework
Proper documentation
Date dropper and color picker
Themekit icons
Shopping Cart
Pricing
Advance form elements
Invoice Page
Full Calendar
150+ Widgets
Carousel
v3.2.0 November 16, 2021
* Refactoring Code for PHP 8
* Added API Request Validator
* Fixed Roles and Permission 

v3.1.0 September 29, 2021
* Added database seeder
* Added Models directory
* Added Request Validator
* Improved POS design
* Separate Inventory Layout
* Improved PSR compatibility

v3.0.0 July 13, 2021
* Update latest Laravel version (Laravel 8.49.2)
* PHP 8 Support
* Added Inventory and POS UI

………………………….
………………………….
v1.1.0 April 23, 2020
* Separated Home url from dashboard url
* Separated chat javascript from theme.js
* Changed login page style
* Fixed minor bugs

v1.0.0 March 31, 2020
* Initial Release 

Thanks for purchasing! Happy Coding!
If you need any support, please let me know. I will do the best support for you within 24 hours.

Source