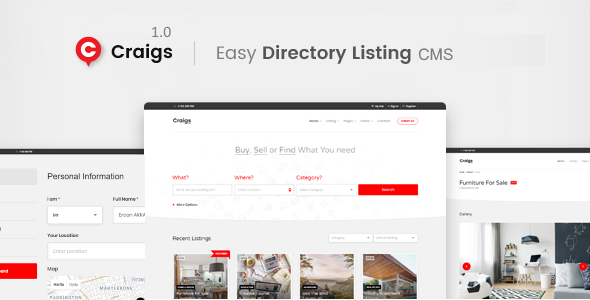 Facebook group for developers
Craigs – Classified Ads CMS Theme
You can use it as a platform where users can sell second hand zero items. You can also use it in real estate, agriculture, agricultural tools, hotel advertisements.
Features
Universal Classified Ads CMS Theme
Adding, deleting, and editing
Ability to give administrator authority to any user
The user can mark the product sold. also can hide the item.
If you want, you can approve items after reviewing them.
You can write your own blogs.
You can add pages.
Google Auto Complete Address
You can add as many languages as you like.
Users can chat among themselves.
The user can comment on another user.
Fully dynamic page structure
You can search for the closest distance to your location.
You can search for the price range you specify.
You can add ads to your favorites.
You can change your Seo settings by yourself.
You can see all events from the administration panel.
You can see notifications as an administrator.
Fully manageable from the management panel
Google adsense ad slots
Theme Updates
Version 1.0
Changelog
Version 1.0.4 - 01.03.2020

- REMOVE: License verification has been removed.
- EDİT: Improvements have been made to the codes.


Version 1.0.3 - 12.07.2019

- ADDED: Seo URL.
- ADDED: Optimizing the dimensions of the added high-dimensional images.
- ADDED: Vendors' online visibility status.
- ADDED: Multiple category selection.
- ADDED: Box categories on the home page.


Version 1.0.2 - 01.09.2018

- ADDED: A map has been added to the Home page.
- ADDED: The zone to be listed can be changed from the user profile.


Version 1.0.1 - 22.08.2018

- ADDED: Added Google analytics code insertion area.
- ADDED: Google Adsense ad slots added.
- ADDED: Added ability to hide user's email address.


Source