Welcome
Rezervy is great PHP script for online booking solution with multi step booking form and single page booking form features . Ability to choose form design from backed is given. Rezervy provide option to add category, services, add-ons , staff members with integrated list of online popular payment gateways and sms gateways.
Rezervy helps you to handle Categories-Services-Add-ons, SEO meta tags, Compatible with Strict Mode , Coupon discount, Recurring discounts, Tax/ Vat / GST, Multi-currency supported, One page & StepView Checkout, Easy and smooth Admin panel, Customer panel, Staff panel, Registered and Guest User Checkout, Auto Confirm Appointments, Weekly Schedule, Working & Off days management, Registered and Guest Customers listing with booked appointment details, Payment details, Export all bookings, Customer information , Payment information and services information, Support tickets, feedbacks, Fully Responsive & much more we adding.
Manage all your required settings at one place and make your business process smooth. Rezervy will boost your bussiness with its features. Amazing hmm!!
Available Add-Ons For Additional Features: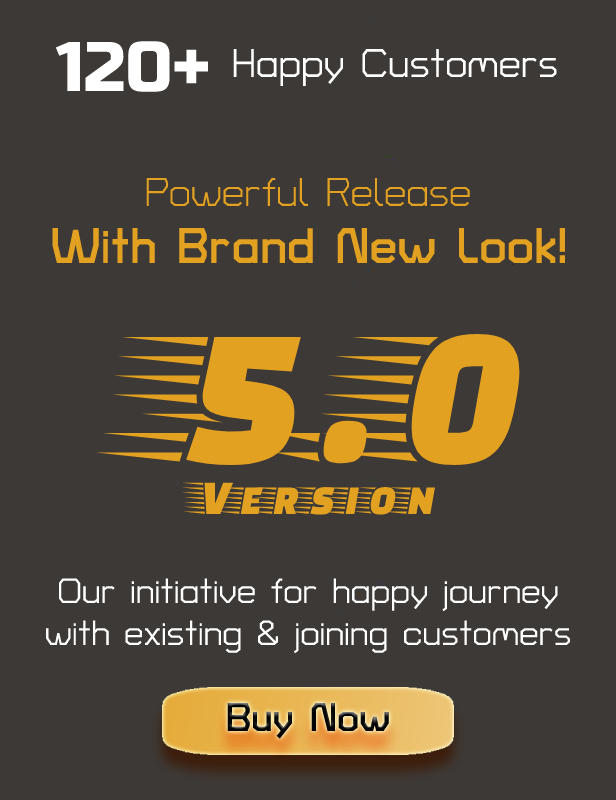 Demo URLs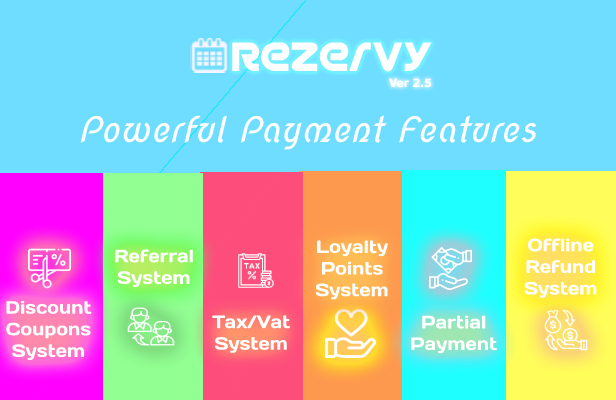 Get in touch with us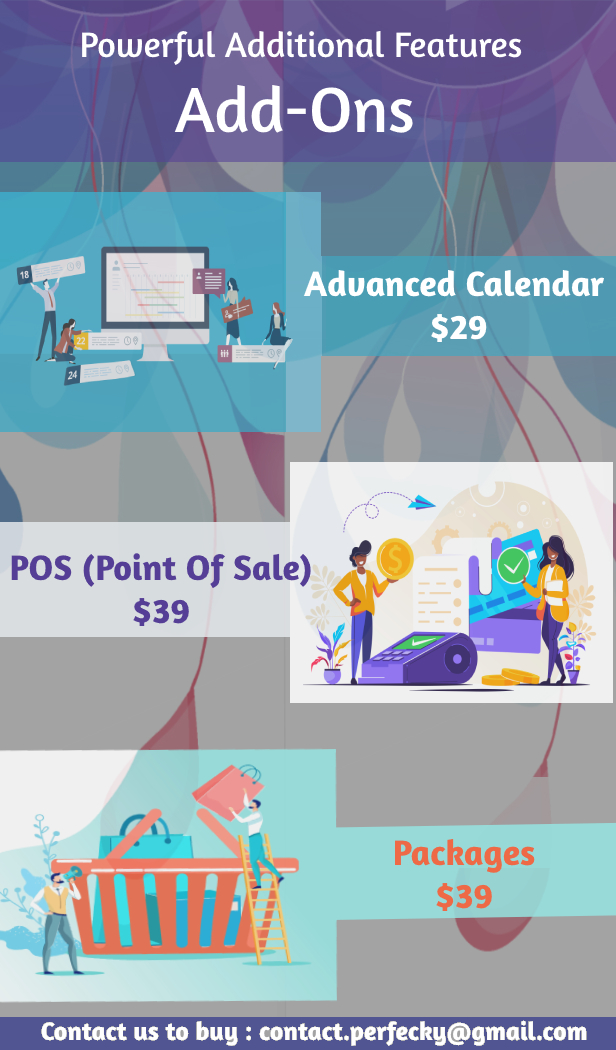 Rezervy Features
Powerful Online Booking Script

Rezervy is your business appointments solution.

Compatible with Strict Mode of MYSQL servers
Categories-Services-Add-ons

Add categories and its services. Add addons for services
Manage categories-services-Add-ons status to show on frontend
Manage price of each Add-ons
Ajax based operations

Step View checkout
One page checkout

One page checkout is the way you fall in love with it.
One page checkout is faster and easier so that more customers convert.

Support Tickets
Embed Code
Booking Padding Time Before for Particular Service.
Booking Padding Time After for Particular Service.
Service Duration.
Service booking with and without addons, Service booking without price.
Service Availability Schedule.
Multi Langual.
Manageable Booking Form Fields.
Manageable Welcome Text Before Booking Form.
Manageable Color and Background Image Of Booking Form
Manual Booking
Fully Responsive & Compatible with any Browser

Rezervy is fully responsive and its designed in such way that it looks great with every devices and is accessible on all devices

Export CSV Reports

Export CSV Reports of Appointments
Export CSV Reports of Services
Export CSV Reports of Customers
Export CSV Reports of Payments

Manageable schedule

Manage your business schedule to make your business more effective.

Coupon discount

Manage coupons/promocodes to fulfill your customers.
Coupons/promocodes per customers.

Recurring discounts

Make your business grown with your recurring customers using recurring discounts.

SEO Ready

Rezervy let you manage SEO meta and og tags, image, description, etc.
Rezervy provides to keep track on your site using google analytics tracking.

Guest User Checkout

Guest user checkout is super fast and convenient for new customers on your book appointment page.
Manageable status of guest user visibily on frontend.

Tax/Vat/GST

Rezervy provides you manage easy fast auto calculation of tax/vat/GST at the checkout time from book appointment page.

Multi-currency supported

Support almost 250+ country's currencies.

Easy and smooth Admin panel

Easy and smooth Admin panel for customers, business owner, staff.

Working & Off days management

Rezervy let you manage your business's working off days for booking schedule.

Installation instruction page and setup instructions modal provided with each configuration to make Rezervy more easy
Pay Manually, Paypal, Stripe, Authorize.net, 2Checkout Payment Gateway On Checkout
Twilio, Plivo, Nexmo & TextLocal SMS gateway for Notifications
Email & SMS Notifications
Manageable Email & SMS templates
Block Off Days management
Affiliate Referral Based Marketing System
Refund Payment Of Cancel/Reject Booking
Date & Time Selection Inline Calendar For Front & Manual Booking Page
Booking Service End Time Selection For Customer
Manageable Refund Amount Flat/Percentage Value
Ability to Enable/Disable Single Category & Service Auto Trigger
Location/Zipcode Selector On Booking Form
Ability to enable/disable Location/Zipcode Selector
Manageable Refund Request Buffer Time
Manageable Refund Policy
Manageable Referral Amount Flat/Percentage Value
Referral Discount Coupons For Each Customer
Sharing Section For Referral Code
Rating & Review For Each Appointment
Seprate Sign Up Form For Customers
Ability To Set Minimum & Maximum Advance Booking Time
Ability To Set TimeZone
Ability to set Maximum End Time Slot Limit.
Ability to enable/disable location selector.
Staff feature.
Staff dashboard.
Add/Edit/Delete staff.
Schedule/Offdays/Breaks for staff.
Staff linking with services.
Manageable staff email/sms notifications templates.
Manageable forgot password email/sms template.
Manageable reset password email/sms template.
Thanks!!!
Online Scheduling | Business System | online booking software Domestic & Commercial clean | carpet cleaning | Lawn Care | Pest Control software | Instant quote | how to take online ordering system for business | Windows cleaning Scheduling Software | Best Maid Software | Service Booking script | Best Maid Service plugin | Security and Alarm | Snow Removal | Plumbing Software | janitorial services business | field service solutions | Appliance Repair | Carpet Cleaning | Plumbing | Car detailing | Catering | Electrical | HVAC | Handyman | Window Washing | Lawn Care | Roofing Service | Locksmith | Junk Removal | Phone Repair | Photography | Pool and Spa Service | Residential Cleaning | Residential Clean Scheduling Software
Thanks for your love to Rezervy. We are working on more feature to make best user friendly Rezervy for you. If still facing any issue, please feel free to contact us at [email protected] . We are always here to help you. You can also write for new feature and for improvement as well. We always need your suggestions for Rezervy.
Version 5.2

    # Image cropping while upload image anywhere => Added
    # Image cropping type , aspect ratio/manual selection => Added
    # Marketing campaigns for tracking campaign statistics => Added
    # Dashboard statistics cards => Improved
    # Minor & Major issues => Fixed

Version 5.1

    # Manageable currency symbol position before/after => Added
    # Manageable discount coupon input field for private shared coupon codes for specific users => Added
    # Manageable client booking calendars (google, yahoo, outlook, ical) & position order => Added
    # Manageable social share buttons (facebook.whatsapp.twitter,google+) in Referral system for customer & position order => Added
    # Cancel booking from direct link by customer, success message display improved and manageable from settings => Added
    # Minor & Major issues => Fixed

Version 5.0

    # Brand new onepage booking form design => Added
    # Brand new stepview booking form design => Added
    # Minor and major issues => Fixed

Version 4.1

    # Fetch, today's available slots for any staff on booking form => Added
    # Fetch, tomorrow's available slots for any staff on booking form => Added
    # ics booking file open & download issue on iPhone => Fixed
    # Minor and major issues => Fixed

Version 4.0

    # Ability for customers to add appointment to Google,Yahoo,Outlook & iCal calendars from booking form => Added
    # Mark appointment as "No Show" => Added
    # Print appointments before day start => Added
    # Print appointments with staff,service & booking date filters => Added
    # Option to clear appointments notification  => Added
    # Minor and major issues => Fixed

Version 3.9

    # Hide price from booking form => Added
    # Ability to add custom CSS on bookings form => Added
    # Ability to delete customer and all linked data => Added
    # Ability to search string in langauge translation section (expand all sections and find string) => Added
    # Ability to use dynamic shortcodes in email subjects => Added
    # Compatibilty with "Services Packages Add-On" ==> Added
    # Minor and major issues => Fixed

Version 3.8

    # Appointments review, listing for admin and delete ability => Added
    # Manual booking with existing guest customer selection => Added
    # Manageable color of breaks on advance calendar => Added
    # User image in backend admin bar => Added
    # Floating booking summary with booking form => Added
    # Staff rating calculation show on front under staff profile => Added
    # Frontend header design => Improved
    # Minor & major issues => Fixed

Version 3.7

    # Ability to set short url for cancel/feedback in SMS templates  => Added
    # Manageable font family for entire system => Added
    # Major & Minor issues => Fixed

Version 3.6

    # Option to enable/disable booking with particular staff => Added
    # Direct links in Email/SMS to cancel and review appointment => Added
    # Dashboard menu bar design => Updated
    # Dashboard analytics date range set to by default "Today" => Updated
    # Major & Minor issues => Fixed

Version 3.5

    # Roles & Permissions => Added
    # DOB field on booking form with year manageable => Added
    # Major & Minor issues => Fixed

Version 3.4

    # Current version display in admin dashboard => Added
    # Minor design improvements => Improved
    # Major & Minor issues => Fixed

Version 3.3

    # Web2SMS SMS gateway => Added
    # Rezervy Extended Features POS Add-on compatibility => Added
    # Major & Minor Issues => Fixed

Version 3.2

    # Book Appointment Without Date & Time From Booking Form => Added
    # Rezervy Extended Features Calendar Add-on compatibility => Added
    # Major & Minor Issues => Fixed

Version 3.1

    # Show/Hide Pay at Venue on Booking Form when only Pay at Venue is enabled => Added
    # Ability to add Privacy & Policy Link => Added
    # Major & Minor Issues => Fixed

Version 3.0

    # GDPR Cookie Consent on booking form and registration form => Added
    # Show/hide staff when single staff is assigned to service => Added
    # Customer dashboard => Added
    # Staff dashboard => Added
    # Booking form alignment => Added
    # Parent categories => Added
    # Sorting of Parent categories and staff => Added
    # Staff advance schedule with breaks => Added
    # Walk-in Customer added in manual booking => Added
    # Manageable color of appointments status for dashboard calendar => Added
    # Ability to show/hide coupons on booking form => Added
    # Ability to show/hide categories/services/addons images on booking form => Added
    # Ability to set square and round images on booking form => Added
    # Changed guest customer email form fields to be optional => Improved
    # Improved search customer ability in Manual booking => Improved
    # Major & Minor Issues => Fixed

Version 2.9.1

    # Minor urgent issue => Fixed

Version 2.9

    # Internal notes about customer by admin => Added
    # Manageable customer note & DOB fields on booking form => Added
    # Edit customer detail by admin from backend => Added
    # Send birthday wish to customer & credit loyalty point as gift => Added
    # Manageable email and SMS birthday wish template => Added
    # Referral coupons to auto fetch for customer on checkout, same as promo coupons => Added
    # Stepview & one page personal detail and payments sections positioning => Improved
    # Minor & major issues => Fixed

Version 2.8

    # Facebook Pixel, Hotjar, Google analytics tracking system => Added
    # Dashboard analytics filter with date range => Added
    # Ticket system notification in backend header => Added
    # More Referral setting, send & receive reward for both users (you will get referral discount coupon, friend will get instant discount if use your referral code while booking) => Added
    # Referral discount coupon credit notification for referral user => Added
    # Minor & major issues => Fixed

Version 2.7

    # Advance loyalty point system , cart amount basis or flat per booking basis => Added
    # Time slots display with service duration OR time Interval basis => Added
    # Auto scroll after each module selection manageable => Added
    # Referral social share section => Improved
    # Minor & major issues => Fixed

Version 2.6

    # Minor urgent issue => Fixed

Version 2.5

    # Loyalty Points System => Added
    # Service Addon Duration => Added
    # Referral Code Social Share => Added
    # Addon Badges To Display On Booking Form => Added
    # Major & Minor bug fixes => Fixed

Version 2.4

    # Translatable frequently discount labels => Added
    # Major & Minor bug fixes => Fixed

Version 2.3

    # Download invoice of booked appointment => Added
    # Made appointment listing page responsive => Improved
    # Minor bug fixes => Fixed

Version 2.2

    # Minor urgent issue => Fixed

Version 2.1

    # Booking form ease with auto scroll => Added
    # Location selector on booking form => Improved
    # Minor issues => Fixed

Version 2.0

    # Sorting of categories => Added
    # Sorting of services per category and without category => Added
    # Sorting of Addons according service selection => Added
    # Added feedback form and feedback slider in stepview booking form => Added
    # Delete feedback ability => Added
    # Minor and Major issues => Fixed

Version 1.9

    # Minor issues => Fixed

Version 1.8

    Frontend Stepview & OnePage Booking Form Design - Improved

Version 1.7

    Google calendar with two way sync for staff - Added
    Staff optional - Added
    Extra details of staff like job done, ratings, etc. - Added
    Ability to show all services instead of category wise - Added
    List view of appointments - Added
    Minimum addon limit - Added
    Minimum cart value to amount limit - Added
    Manageable color scheme - Added
    Service badges like trending,popular etc. - Added
    Bank transfer payment option - Added
    Partial deposit - Added
    Staff should be not able to assign service by himself - Fixed
    If refund status is not enabled then disabled menu and page from customer dashboard - Fixed
    Major and Minor bug - Fixed
    Improved design - Improved

Version 1.6

    Set Addon max limit - Added
    Fixed add Addon validation error - Fixed
    Fixed slots issue in reschedule appointment - Fixed
    Fixed addon plus minus button issue for multiple addons in step view booking form - Fixed
    Fixed block off conflict issue while there is no of bookings greater than 1 - Fixed
    Minor issues - Fixed

Version 1.5

    minor issues - Fixed

Version 1.4

    Google calendar 2 way sync - Added
    Addon can be apply to multiple services - Added
    Step view checkout Previous button - Added
    Iframe embed issue - Fixed
    Responsive view booking form images issue - Fixed
    Other major & minor issues - Fixed

Version 1.3

    Location specific services - Added
    Category image feature - Added
    Dashboard analytics page - Added
    Single staff hide and auto select on booking form - Added
    Added business name as dashboard title - Added
    Show all registered customers in customers listing page dashbaord - Added
    Show all registered customers in manual booking as existing customer dropdown for selection - Added
    Changed the theme color - Improved
    Reset password button type issue - Fixed
    Login button type issue - Fixed
    Staff dashboard manual booking issue - Fixed
    Minor issues - Fixed

Version 1.2

    Default language selection option - Added
    Default country code selection in phone number form fields - Added
    Next button on booking form improved , Added on top and bottom of page for ease - Added
    Step view booking form, addon quantity slection on booking detail step and new design added - Added
    Stripe library update with TLS - Improved
    Language selection dropdown style - Improved
    Minor issues - Fixed

Version 1.1

    Booking form & Dashboard Design improved
    Manual booking button added in Dashboard appointment page
    Minor issues fixed

Version 1.0
 Initial release
Source