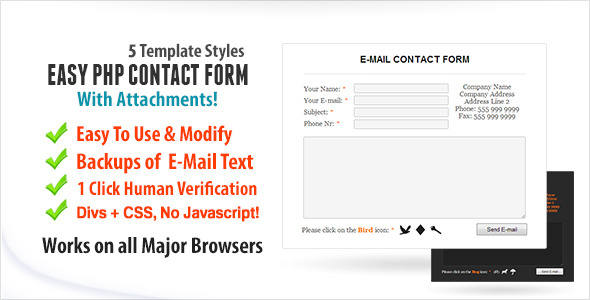 List of Features:
Easy To Use – Just 1 Line of code to add to your site!
Optional PHP @include and CSS @import codes for full integration!
Configuration requires just your e-mail address and company info.
Accepts sending files in an attachment!
Attachment size limit can be adjusted (default is 5MB)!
No Javascript required and Works in All Major Browsers!
Responsive design for mobile users (320 pixels minimum width).
HTML5 and CSS3 tableless design!
5 Different Themes To Choose From!
User Friendly with 1 Click human Verification against spam bots!
One Message Per Minute spam Protection!
Optional Phone Number Field and company information.
Error Messages that Can Be easily Modified.
No More Lost E-mails – Optional Text Backups!
Backups are saved even when the server fails to send the message!
Optional "E-mail Received" Confirmation Letters.
Custom Character Limits and minimum input length requirements!
Option to Allow/Disallow HTML.
You can choose to require the client's full name.
Checks that e-mail contains "@" and "." characters.
You may replace "Phone Nr" field with something else, like "URL."
Requirements:
PHP5.x with mail()
Works with All Major Browsers – No Javascript Required!
How To Use:
Open the "Form.php" file with a text editor, replace the "[email protected]" parts with your e-mail address, insert company info (or disable it) and upload the files to your server.
Copy the code from the help file to your page (working Example files are included).
Support:
The script has been tested on Hostgator, GoDaddy and 000 Webhost servers. If you have any problems with running this script on other servers, then please send me a message and I will try get back to you with a solution within 24 hours.
If you are happy with the files, then please dont't forget to leave a
rating and if you have any questions or need any help, then you can send a message to me here.
Affiliates:
Please feel free to recommend this item to others to earn affiliate profits.
Envato users "receive 30% of" the "first cash deposit or purchase price" of the referred person.
Just share this link in social media or on your website (replace "Romet6" with your username):
http://codecanyon.net/item/easy-contact-form-with-attachments/5706226?ref=Romet6
You are allowed to use the preview image with the referral link.
You May also Like My Other Files: