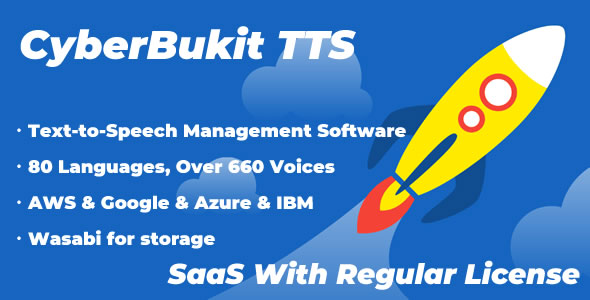 For this script, you only need a Regular License to run it as your SaaS business. Payment collection(PayPal and Stripe) is included.
CyberBukit TTS is fully integrated with the Text-To-Speech service of AWS, Google, Azure and IBM.
Run your business like talkia.com and speechelo.com
Take a look at their Facebook page and see how people are talking about TTS.
https://www.facebook.com/SpeecheloOfficial/
TTS is short for Text-to-Speech. It is an efficient tool. You only need to type, and then a voice file will be generated automatically. It's widely used in many areas such as video content creation, e-learning, audiobook, etc.
About the script
Nowadays, Amazon AWS, Google Cloud, Microsoft Azure and IBM Cloud offer TTS services. The form of their services is a technical API. So you may need a tool that helps you to manage the TTS service. This is what CyberBukit TTS can do for you. Please note that CyberBukit TTS cannot do the Text-to-Speech work, the tough work is actually done by AWS or Google Cloud or Microsoft Azure or IBM Cloud. So you may have extra costs in using TTS (They also offer a free tier if you don't use too much).
This two links about pricing may be helpful.
https://aws.amazon.com/polly/pricing
https://cloud.google.com/text-to-speech/pricing
https://azure.microsoft.com/en-us/pricing/details/cognitive-services/speech-services/
https://www.ibm.com/cloud/watson-text-to-speech/pricing
TTS Features
Amazon AWS Polly TTS Service
Google Cloud Text-to-Speech Service
Microsoft Azure Cognitive Text to Speech
IBM Cloud Text to Speech
Voice Resource Synchronization (over 80 Languages and 660 voices)
Save TTS files on local server, AWS S3 or Wasabi
SSML Supported
Multipe Users Supported
Cronjob for TTS files management
Easy to configurate, we offer detailed documentation
And much more features about management…
SaaS Ready
CyberBukit TTS is SaaS Ready. That means you can charge your users in many ways.
1. Free service
2. One-time purchase, lifetime use
3. Pay-As-You-Go (PAYG)
4. Package of a specific number of characters
5. Subscription of a specific number of characters, or unlimited characters
6. Mix mode
For more information about SaaS, please visit https://support.cyberbukit.com/help-center/articles/7/how-does-the-pricing-model-work
By taking advantage these awesome features, you can run your TTS busniess in no time!
You can run it as SaaS with Regular License.
Demo
https://tts.demo.cyberbukit.com
SuperAdmin Credentials
Username : admin
Password : admin
User Credentials
Username : user
Password : user
Support
Pre-sale: Send an email through My Profile
Technical Support: Doucmentation & Ticketing
Please note that we'll offer free help to set up the script (installation and AWS/Google/Azure/IBM/Wasabi configuration), and made it run 100% same as the demo site. and we don't accept any refund request once the script is downloaded.
Changelogs
You can perform the upgrade through the built-in updater(Admin Tools->Upgrade Software), no need to download the new version.
https://support.cyberbukit.com/help-center/articles/18/changelog-of-cyberbukit-tts
All changelogs are shown above.

Source