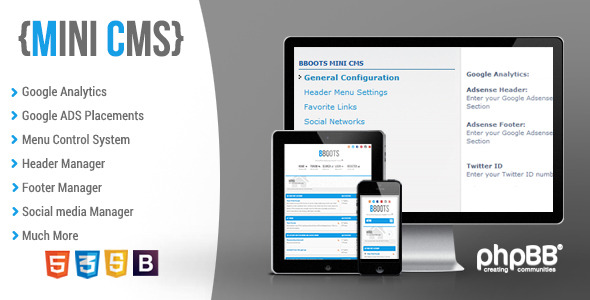 Mini CMS for BBOOTS phpBB3 Theme
This MOD allows the administrator running BBOOTS to easily customize the BBOOTS style via ACP (Administration Control Panel). Similar to the WordPress custom theme systems.
Make sure BBOOTS (the latest version) is installed before installing this script: BBOOTS – HTML5/CSS3 Fully Responsive phpBB3 Theme . Supports phpBB 3.3, 3.2
With this Mini CMS the forum ADMIN will be Able to do the following:
Add/edit/Delete Main Menu and Mobile Menu
Add/edit/Delete Logo and/or a text logo
Add/edit/Delete Social network links and icons. – You can also set if the links are visible for Registered users or Guests
Add Google adsense or custom banner/ads in different forum locations
Add Google Analytics account
Add Twitter Account
Add/edit/Delete About Us Block
Enable/Disable a Modal Login
Apply Different Avatars frame Effects
Change poster layout position, left, right and alternate
Enable/Disable Sub-header and Footer Block
Add/edit/Delete Forum Background
More…
Customer Reviews
Wonderful addon. You can donso many things. Great to have the ads placement. Makes it so easy to use google adsense. I love the menu manager as well )" title=" :)" />

AmySat
I had some issues with my forums and the support was great. I can recommend this developer for any people needing phpBB3 support

Vytensis-p
Dave has been nothing short of AMAZING in his customer support. This is a person who is 100% dedicated to his customers. Can't say enough good things about Dave, BBoots and Mini CMS.

poind3xter
You rock! Saved my day and time! Simple yet powerful stuff. keep it up. Wish you best of luck. its amazing to see actually someone knows their things so well as you do.

Shiandra25
it is very easy to customize just like copy and paste. One more thing, Dave is always there to assist you. Thank you Dave.

Theme_King
Love it, well worth the extra dough!

Weyland_Yutani
More Features upon request.
Road Map So far: -Add SEO Section. -More Configuration Options